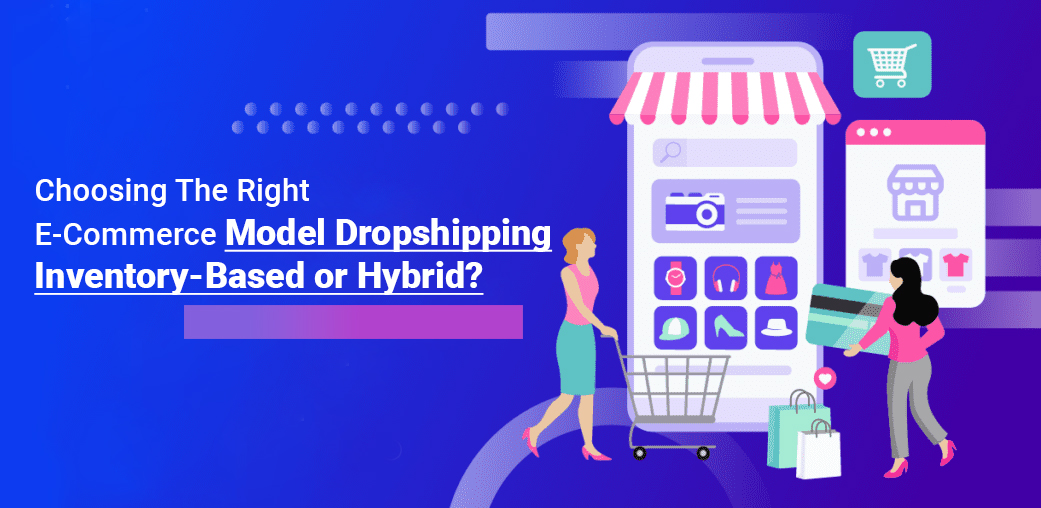 Introduction
The online shopping world is booming, and lots of different-sized companies are hurrying to set up shop on the internet. If you want to start an online store, one big choice you'll need to make is picking the best way to run your business. There are three main options: dropshipping, keeping your own inventory, or a mix of both. Each has its own pros and cons, and picking the right one can make a big difference in how well your business does. Here, we'll look at these three ways to do e-commerce and help you figure out which one is best for your business goals and what you have to work with.
1. Dropshipping: The Low-Risk and Low-Capital Model
Dropshipping is a trendy way of doing online business that has become super popular lately. The cool thing about it is that you don't need a lot of money to start, and it's easy to get into. Here's how it works:
Supplier Relationships: In dropshipping, you team up with suppliers or wholesalers who have the things you want to sell. But you don't have to buy or keep the stuff yourself.
Order Fulfillment: When someone buys something from your online store, the supplier sends the item straight to the buyer. This way, you don't have to think about keeping stuff, putting it in boxes, or sending it out.
Pros of Dropshipping:
Low Risk: Because you don't buy things before selling them, you don't have to worry about having stuff you can't sell.
Low Initial Investment: You can begin an e-commerce business with very little money by concentrating on creating and promoting your website.
Flexibility: Expand your range of products effortlessly, with no need to fret about running out of storage space.
Cons of Dropshipping:
Lower Profit Margins: Because you're not buying lots of things at once, your profits aren't as big as other ways of doing business.
Limited Control: You don't have much power to make sure the products are really good, to make sure things are shipped on time, or to keep enough products in stock. But all of these things can make customers happy or unhappy.
Intense Competition: Dropshipping is liked by many people, and this means that there can be a lot of competition in different markets.
2. Inventory-Based: Traditional Retail, Online
Inventory-based e-commerce takes the old-fashioned retail method and brings it to the internet. In this approach, you buy and keep products in stock, handle storage, packing, and shipping. Here's a simple breakdown of how it operates:
Inventory Management: You purchase lots of items, keep them in a big storage place, and take care of how many you have.
Order Fulfillment: When a customer places an order, you are responsible for packaging and shipping the product to the customer.
Pros of Inventory-Based E-Commerce:
Higher Profit Margins: When you buy a lot of something at once, it costs less, and that means you make more money when you sell it.
Quality Control: You can make sure the products are good, the shipping is fast, and customers are happy with the service.
Brand Control: Create and manage your brand's reputation better.
Cons of Inventory-Based E-Commerce:
Higher Capital Investment: You need a lot of money to buy and store things in stock.
Risk of Unsold Inventory: If the product you're trying to sell don't sell well, you might lose money because you couldn't sell all of them.
Logistics Challenges: Managing storage, packaging and sending stuff can be hard and take a lot of time.
3. Hybrid Model: Combining the Best of Both Worlds
The hybrid e-commerce model is like mixing two types of online stores: one where you don't keep products in stock, and another where you do. It's a way to get the good parts of both without going all in on one. Here's how it works:
Core and Complementary Products: You keep a stock of the most popular and in-demand items, but you rely on dropshipping for products that are less popular or specialized.
Flexibility: This model lets you expand your product choices without worrying too much about having too much extra stock.
Pros of the Hybrid Model:
Optimal Capital Utilization: You can smartly invest your money in important products and keep risk low by selling items you don't have in stock.
Reduced Overhead: Reduced storage expenses when compared to a complete inventory-based system.
Diversification: Expand the types of things you sell, but don't spend too much money doing it.
Cons of the Hybrid Model:
Complexity: Managing both inventory and dropshipping relationships can be more complex than choosing one model.
Inventory Management: You still need to handle inventory, albeit on a smaller scale.
Conclusion
Choosing the right e-commerce model is a crucial decision. It depends on how much money you have, what you want to achieve with your business, and how much risk you can handle. Drop shipping is safer and doesn't need a lot of money upfront, but you might not make as much money. Having your own products and selling them online can make you more money, but you need to invest a lot in the beginning. A mix of both methods can be a good compromise, giving you some of the advantages of both. Before you choose what to do, think about what your business needs, how much money you have, and what you want to achieve in the future. Also, think about what you want to sell, who you want to sell it to, and if you can handle keeping track of your stuff. When you find the right way to do online business, it can help your business do well in the rough online market.