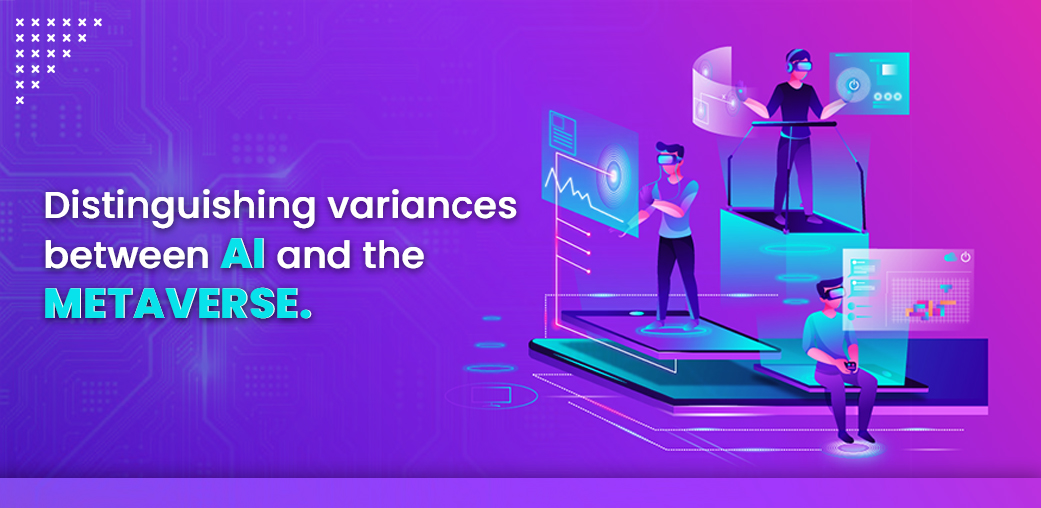 Introduction:
In the fast-moving world of tech, two big ideas are leading the way and changing how we do things online- Artificial Intelligence (AI) and the Metaverse. They're both really important, but it's crucial to know the differences between them to see how each one is making our digital world better in its own special way.
Artificial Intelligence (AI):
AI, the pioneer of modern computers, means creating computer systems that can do things smart people do. These things include learning, figuring things out, solving problems, understanding how people talk, and knowing what's going on. AI systems are made to get better and better as they go, learning from what happens and the information they get.
Machine Learning (ML) is like a smart helper for computers. It helps them figure out patterns and make guesses without someone telling them exactly what to do. Deep Learning is a special kind of ML that uses networks to copy how people make decisions. AI does lots of things, like virtual helpers, suggesting things you might like, self-driving cars, and really advanced medical tools.
The Metaverse:
The Metaverse is like a mix of the real world and the internet. It's a space where our physical and digital lives come together, making a shared virtual world that feels real and lets us do things together. The Metaverse includes things like augmented reality (AR) and virtual reality (VR), which make it hard to tell what's real and what's not. People can use avatars to explore this digital world, meet others, and even do business.
The metaverse isn't just one big thing. Instead, it's like a bunch of virtual spaces all connected together. Companies, such as Meta (used to be Facebook), are putting a lot of money into making the metaverse. They think it's the next step for the internet, where people can easily go from one virtual place to another.
Distinguishing Variances:
Nature of Interaction:
* AI primarily focuses on enhancing computer systems' cognitive abilities, enabling them to perform specific tasks autonomously.
* While this is like a digital world where people can hang out together, talk, and work together. It's a place where everyone can join in and do things together.
Application Scope:
* AI can do many things, like understanding speech and pictures, driving cars on its own, and helping with medical diagnoses.
* It is like a cool online world where you can hang out with friends, play games, have work meetings, and do lots of fun stuff together.
Data Utilization:
* AI needs lots of information to learn and get better as time goes on.
* The Metaverse grows and changes with the help of things made and done by users. This makes a lively and inclusive world for everyone to be a part of.
Time Frame:
* For many years, people have been working on making AI better and better. It keeps getting smarter and can do more things.
* This is a new idea that's still getting started. People are working on it and trying things out to see what amazing things it can do.
Conclusion:
In conclusion, these are both really powerful technologies, but they do different things in the digital world. AI makes machines smarter and better at computing, while the Metaverse creates a cool virtual space for fun and interactive experiences. It changes how we connect and work together in the digital world. It's important to know the differences between these ideas to understand how they will change technology and how we interact with each other. As these technologies get better, working together, AI and the Metaverse might bring even cooler things, changing how we live in the digital world.