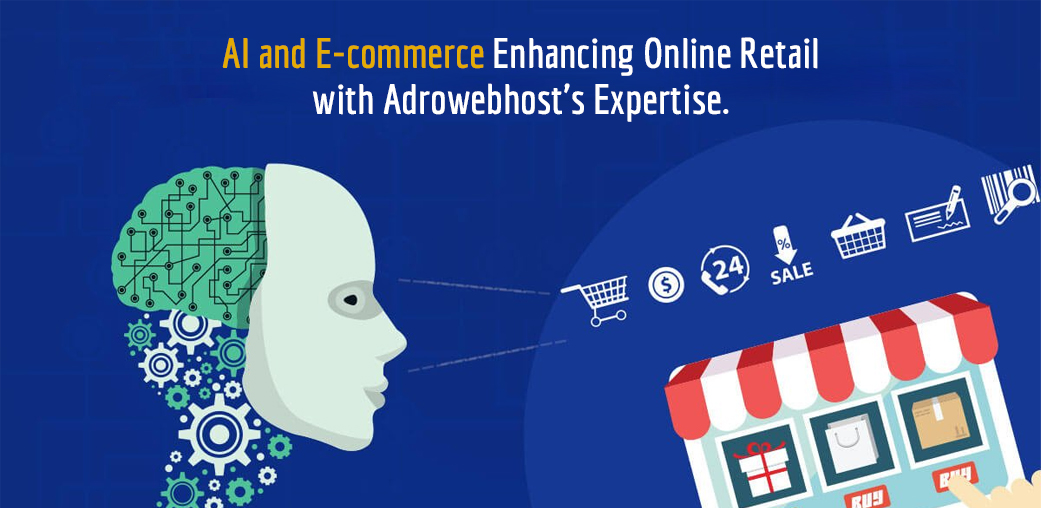 Introduction
In recent years, the synergy between artificial intelligence (AI) and e-commerce has revolutionized the online retail landscape. The unprecedented growth of the e-commerce industry has prompted businesses to explore cutting-edge technologies to stay competitive. Among the frontrunners in this digital transformation is Adrowebhost, a pioneering tech company that specializes in harnessing the power of AI to optimize e-commerce operations. In this blog, we will explore how Adrowebhost's expertise has been instrumental in enhancing the e-commerce experience for businesses and consumers alike.
The Rise of E-commerce and the Need for AI
The advent of the internet brought about a paradigm shift in consumer behavior, ushering in an era of e-commerce. Today, millions of products and services are available at our fingertips, making shopping convenient and accessible from the comfort of our homes. However, with this surge in online shopping, businesses face challenges in managing inventories, personalizing customer experiences, predicting demand, and streamlining logistics.
This is where AI comes to the rescue. AI-powered solutions can process vast amounts of data, identify patterns, and extract valuable insights, enabling e-commerce businesses to make data-driven decisions. Additionally, AI's ability to analyze customer behavior and preferences empowers businesses to deliver personalized shopping experiences, leading to higher customer satisfaction and loyalty.
Adrowebhost: The AI Game-Changer in E-commerce
Adrowebhost is a trailblazing tech company that has emerged as a leader in the AI-driven e-commerce solutions domain. With a team of talented data scientists, machine learning experts, and e-commerce specialists, Adrowebhost has developed an array of AI-based tools that cater to the unique needs of online retailers.
1. Personalized Product Recommendations
One of Adrowebhost's standout features is its advanced recommendation engine. By leveraging machine learning algorithms, the engine analyzes customer behavior, purchase history, and browsing patterns to offer personalized product recommendations. This level of personalization boosts cross-selling and upselling opportunities, thereby increasing the average order value and customer satisfaction.
2. Inventory Management and Demand Forecasting
For e-commerce businesses, inventory management can be a complex challenge. Adrowebhost's AI-powered system effectively predicts demand patterns, allowing businesses to optimize their inventory levels. This, in turn, reduces excess stock and prevents stockouts, ultimately leading to cost savings and enhanced customer experiences.
3. Customer Support Automation
In the era of instant gratification, timely and efficient customer support is crucial. Adrowebhost's AI-driven chatbots offer round-the-clock assistance, answering common queries and resolving issues promptly. By automating customer support, businesses can free up human resources for more critical tasks while ensuring consistent, high-quality service for their customers.
4. Fraud Detection and Prevention
E-commerce businesses often fall victim to fraud and security breaches. Adrowebhost's AI algorithms are equipped to detect suspicious activities and anomalies in real-time, mitigating the risk of fraudulent transactions. This robust security infrastructure builds trust among customers, protecting both their data and the reputation of the e-commerce brand.
Conclusion
The partnership between AI and e-commerce has significantly reshaped the way we shop online, providing benefits for both businesses and consumers. Adrowebhost's expertise in leveraging AI for e-commerce has proven to be a game-changer, optimizing processes, enhancing customer experiences, and driving overall growth for online retailers.
As the e-commerce industry continues to evolve, the role of AI will become even more critical. Adrowebhost's dedication to staying at the forefront of AI advancements ensures that businesses partnering with them will always have access to the latest and most effective solutions for their e-commerce needs.
In conclusion, AI and e-commerce are a perfect match, and with Adrowebhost's expertise, the future of online retail looks brighter than ever. Embracing AI-driven solutions is no longer an option but a necessity for any e-commerce business aiming to succeed in the hyper-competitive digital landscape.