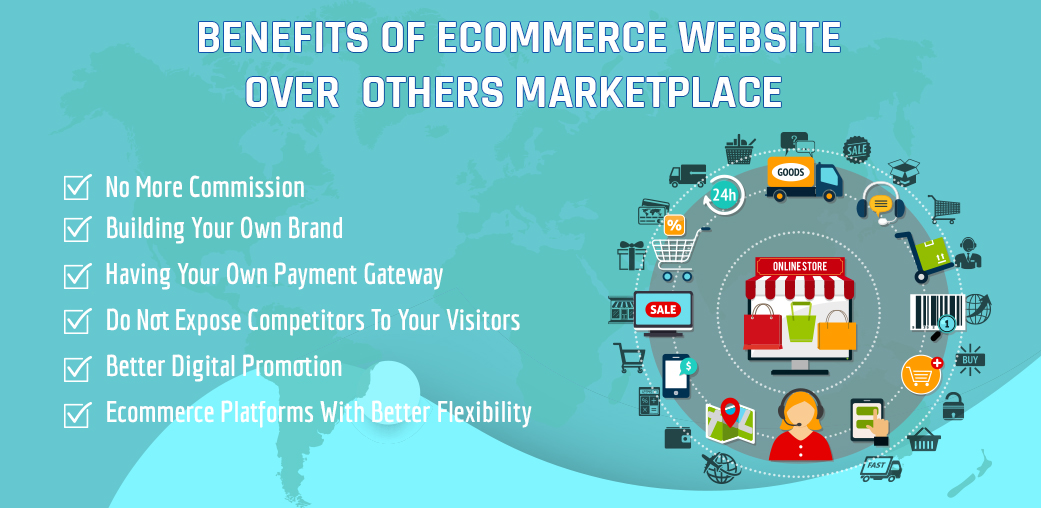 Today's world is engaged almost everywhere, but most of the online options catch the flies when it comes to shopping. As the era has changed and people are more comfortable with online shopping, the needs of selling shall also require a shift.
If you are a business person and own an offline store, you might have decided to retail those online like Amazon or Ebay. These options are quite convenient, as you do not have to worry about the marketing or promotion of your items.

However, from a prudent point of view, having your own ecommerce store is any day better. Here we have mentioned a few points to justify this fact. Please go through these details to understand the reason for having a self-run online store to set up your brand according to your preferences.

Little Recognition of your Brand
When customers buy any product from Amazon, Ebay, or any other online platform, they hardly check its brand. If asked or referred, they mention that they bought the product from the online store.
At the end of the day, despite you being the person or team behind the item, your brand receives little or no recognition. Although Amazon or Ebay is performing the task of only advertising and delivering your products, these sites take away the entire credit for something that could be your indigenous creation. So, if you wish to establish your brand name and plan for the long term of your business build up, owning or creating your own ecommerce portal would be the ultimate option.

Following of Strict Policies
If you sell your product on Amazon or Ebay, you have to abide by the site's regulations. This includes , return, refunds, installation, etc. You shall have no scope for liberty in these policies, which may appear strenuous at times.
Having your own e-commerce portal means having full freedom in deciding your policies regarding essential features like returning, refunding, etc. You can choose to be transparent with the customers with your policies by mentioning them in quick links on your website.
The customers can also call you directly in case of doubts, instead of calling the customer care team. This saves time for both you and the shoppers. Also, this builds the trust and relationship between you and the buyer.

Payment for Using Store
This is an obvious reason you may consider switching to your own portal rather than a popular store. As you are using third-party software and their portal for advertising your item, there are many costs that you have to incur. These costs are separate from the profit margins of such ecommerce portals and make an additional burden on the business owner's pocket.
On the other hand, once you create your own website and start selling your items there, you become free from these fees, which are additional costs compared to your production. And ultimately, these will get added finally to your profit margin.
The Final Thoughts
Selling your items on readily available and popular e-commerce stores is good for a start. But, to establish your own brand and all the points mentioned above, you should consider opening your own online portal.
The benefits of an ecommerce portal make fundamental changes in the business and the brand promotion. It also acts as a recognizing factor for your ecommerce business and aids in building a brand name.