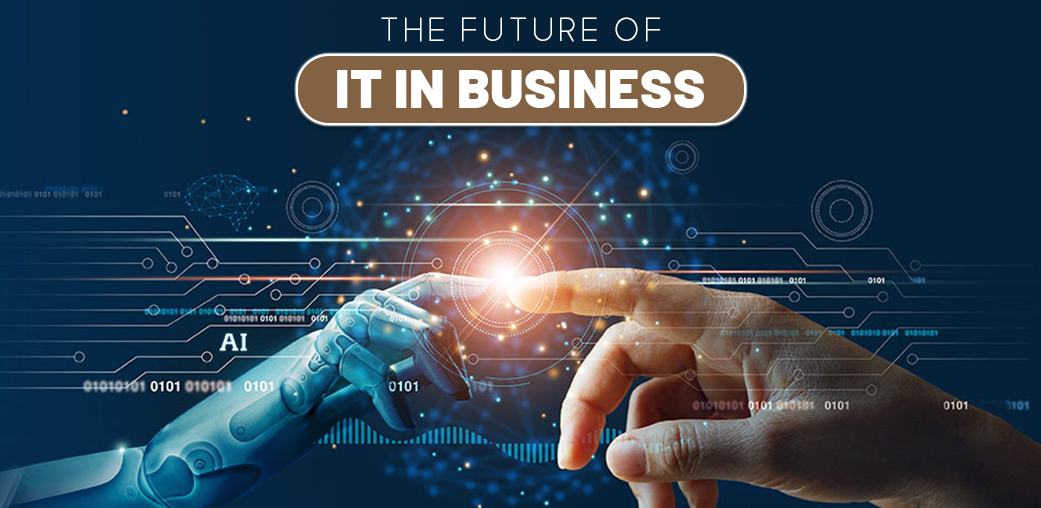 Introduction
In today's fast-changing world of business, information technology (IT) is super important. It helps organizations work better, come up with new ideas, and be competitive. As we move ahead in a more digital and connected world, it's really important to check out the things that will define the future of IT in business.
1. Artificial Intelligence (AI) and Machine Learning (ML)
AI and ML are already making big changes in many industries, and they're going to keep getting more important for businesses. Things like predictive analytics, chatbots, and automation are changing how things work. In the future, companies will use AI to make decisions based on data, make customers happier, and make their operations work even better.
2. 5G Connectivity
The arrival of 5G networks means really, really fast internet and less waiting, which is great for businesses. With this tech, we can send data instantly, making remote work better and helping stuff like smart devices (IoT) grow. Places like hospitals, shipping, and making things will especially like how 5G helps things happen quickly and smoothly.
3. Edge Computing
Edge computing is becoming more popular. It means doing computer stuff closer to where the data comes from instead of far away in big data centers. This helps things work faster and makes Internet of Things (IoT) devices work better. It's great for things like self-driving cars and smart cities. Companies will start using edge computing more to quickly process data and make better choices.
4. Cybersecurity
As businesses use more computer related things, it's really important to keep them safe from bad computer people or hackers. These people keep coming up with new ways to do harm, so companies have to be smarter and protect themselves. In the future, businesses will use fancy computer tricks like AI to spot threats, not trust anyone too much, and make sure their secret stuff is super locked up.
5. Cloud Computing
The cloud has already changed how businesses save and handle information. In the future, cloud computing will keep getting better with new edge cloud and hybrid cloud options. These will let companies be more flexible and grow their computer systems while still keeping a grip on their data.
6. Blockchain Technology
Blockchain, which is famous for its use in digital money like Bitcoin, isn't just about money. It can also be used to keep things safe and clear when we want to check or prove something. This can be really helpful in making sure things go smoothly in businesses, healthcare, and even when we vote. As blockchain gets better, companies will find new and smart ways to use it in what they do.
7. Remote Work and Collaboration Tools
The COVID-19 pandemic made more people work from home and use online tools to work together. Even when things get better, working from home will still be common. Companies will spend money on better online tools, like virtual reality, to help people work together, even if they're far apart.
8. Sustainability and Green IT
Sustainability isn't just a trendy word; it's something that both businesses and people care a lot about. Computers and technology will be really important in helping companies use less energy and be kinder to the environment. Things like eco-friendly computer rooms, using clean energy for computers, and using green tech will become normal as businesses try to be more sustainable.
9. Data Privacy and Compliance
Because of strong rules about keeping information private, like GDPR and CCPA, companies must focus on keeping data safe and following the rules. Having strong plans and technology to manage data properly is really important. This will help them avoid big fines and keep their customers' trust.
10. Human-Machine Collaboration
The future of IT isn't about replacing people. Instead, it's about making people even better at their jobs. Companies will start to work more with computers and robots, and together, they'll be super good at getting things done and thinking up new ideas.
Conclusion
The future of IT in business looks really good, and there are lots of exciting chances for improvement. To stay competitive and strong in the fast-changing digital world, it's important for businesses to adopt these new ideas and forecasts. Companies that spend in AI, 5G, edge computing, cybersecurity, and eco-friendly practices will do well and be at the front in the digital era. As we go ahead, the important things for success will be the ability to adjust, come up with new ideas, and really understand how IT can help a business grow and work better.