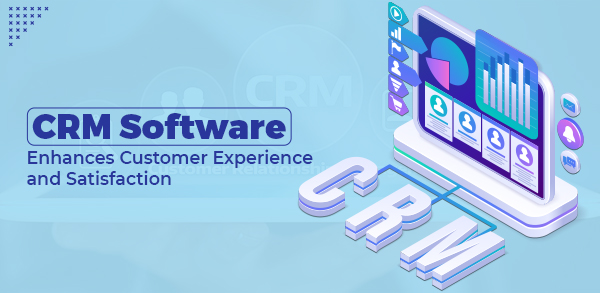 In today's hyper-competitive business landscape, providing exceptional customer experiences has become a top priority for companies across various industries. Satisfied customers are not only more likely to become repeat buyers but also serve as powerful brand advocates, helping to attract new clientele through positive word-of-mouth. To achieve this, businesses are turning to Customer Relationship Management (CRM) software as a key tool in their customer-centric strategies. Here, we will explore how this software enhances customer experience and satisfaction.
Understanding CRM Software:
It is a powerful technology that enables businesses to manage and analyze their interactions with both current and potential customers. It consolidates customer data from various touchpoints, including sales, marketing, customer support, and social media, into a single, comprehensive platform. This unified view of customer information empowers companies to better understand their customers' needs, preferences, and pain points, resulting in improved customer service and personalized interactions.
360-Degree Customer View
One of the most significant benefits of CRM software is its ability to create a 360-degree view of each customer. Traditional methods of customer data storage, such as spreadsheets or disjointed databases, can lead to fragmented and outdated information. CRM systems centralized customer data, making it easily accessible and up to date for all authorized employees. This comprehensive view allows businesses to understand their customers better, anticipate their needs, and deliver personalized experiences, ultimately leading to increased customer satisfaction.
Personalization and Targeted Marketing
In today's era of mass customization, customers expect personalized interactions with brands. CRM empowers businesses to segment their customer base based on various attributes, such as demographics, purchase history, and behavior. This segmentation enables companies to tailor marketing campaigns and communications to specific customer groups, delivering relevant content and offers. Personalization enhances the customer experience by making customers feel valued and understood, thus fostering stronger connections and loyalty.
Efficient Customer Support
Effective customer support is a crucial aspect of customer satisfaction. It streamlines customer support processes by providing a centralized ticketing system and case management capabilities. When a customer reaches out for assistance, support representatives can quickly access the customer's history, past interactions, and preferences. This quick access to information allows support teams to resolve issues more efficiently and effectively, leading to happier customers who feel supported and cared for.
Streamlined Sales Process:
CRM software also plays a pivotal role in enhancing the sales process. Sales teams can use tools to track leads, manage prospects, and automate follow-ups, ensuring that no potential opportunity falls through the cracks. The system's sales analytics and reporting capabilities provide valuable insights into the sales pipeline, enabling businesses to optimize their sales strategies. A smoother sales process translates to shorter lead-to-customer conversion times, contributing to overall customer satisfaction.
Proactive Customer Engagement
The software enables businesses to engage with customers proactively. Through automated reminders and notifications, companies can reach out to customers on important dates, such as birthdays or anniversaries. Moreover, CRM systems can be integrated with marketing automation tools, facilitating timely and relevant communications with customers. By staying in touch and showing genuine interest, companies can foster long-term relationships and generate customer loyalty.
Feedback and Surveys
It provides avenues for gathering customer feedback and conducting surveys. By leveraging customer opinions, businesses can identify areas for improvement and understand what drives customer satisfaction. Acting upon feedback signals to customers that their opinions matter, fostering a sense of partnership and trust between the company and its clientele.
In conclusion, Customer Relationship Management (CRM) software is a valuable asset for businesses seeking to enhance customer experience and satisfaction. By consolidating customer data, enabling personalization, improving customer support, streamlining sales processes, facilitating proactive engagement, and leveraging customer feedback, empower companies to deliver exceptional experiences at every touchpoint. When customers feel valued, understood, and supported, they are more likely to remain loyal and spread positive word-of-mouth, contributing to the company's long-term success. Embracing CRM technology is no longer an option but a necessity for businesses striving to thrive in the customer-centric landscape of today and beyond.