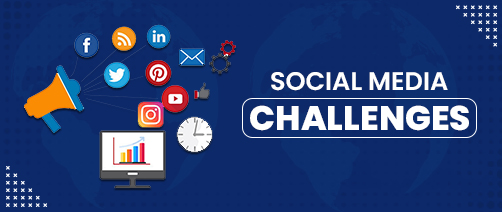 Introduction:
Social media has become an integral part of our lives, both personally and professionally. It offers numerous opportunities for individuals and businesses to connect, engage, and promote their ideas, products, and services. However, it's not uncommon to feel overwhelmed by the challenges that come with managing social media platforms. Here we will discuss common struggles faced by users and provide effective ways to overcome them.
Limited Resources and Time:
One of the biggest challenges of management is finding the time and resources to consistently create and publish quality content. To tackle this issue, consider the following strategies:
Develop a content calendar: Plan and schedule your content in advance. This helps maintain consistency and ensures you have a steady stream of content ready to be published.
Repurpose content: Instead of always creating new content, repurpose existing content in different formats or for different platforms. For example, make a series of social media posts or transform a video into a podcast episode.
Automate and schedule: Utilize tools to schedule posts in advance, freeing up your time for other tasks.
2. Content Creation:
Creating engaging and valuable content is key to capturing your audience's attention. Overcome content creation struggles with these tips:
Know your audience: Understand your target audience's preferences, interests, and pain points. Tailor your content to meet their needs and desires.
Mix up content formats: Experiment with various content types such as videos, images, infographics, podcasts, and written posts. This keeps your feed fresh and appeals to different audience preferences.
User-generated content: Encourage your followers to create and share content related to your brand. This not only fosters engagement but also lightens the load of content creation.
3. Brand Knowledge and Differentiation:
In a crowded social media landscape, it can be challenging to stand out and create brand awareness. Here's how you can differentiate your brand:
Consistent branding: Develop a cohesive visual identity, including logos, color schemes, and fonts, to create a recognizable brand presence across online platforms.
Authenticity: Be true to your brand's values and mission. Share behind-the-scenes content, showcase your team, and tell compelling stories that resonate with your audience.
Influencer collaborations: Partnering with influencers relevant to your niche can help extend your reach and introduce your brand to new audiences.
4. Audience Engagement:
Engaging with your audience is crucial for building relationships and fostering brand loyalty. Try the following strategies to increase audience engagement:
Respond promptly: Reply to comments, direct messages, and mentions in a timely manner. Show your audience that their opinions and questions are valued.
Encourage conversations: Ask thought-provoking questions, run polls or surveys, and invite your audience to share their experiences or opinions.
Contests and giveaways: Organize contests or giveaways to incentivize engagement. Offer rewards that align with your brand or products to attract relevant participants.
5. Algorithm Changes:
Social media algorithms constantly evolve, making it challenging to maintain organic reach. Stay ahead of algorithm changes with these tips:
Stay informed: Keep up with industry news, social media blogs, and official announcements to understand algorithm updates and adapt your strategy accordingly.
Diversify platforms: Don't rely solely on one platform. Build a presence on multiple platforms to mitigate the impact of algorithm changes on your reach.
6. Measurement and ROI:
Measuring the effectiveness of your efforts is crucial to ensure a positive return on investment. Consider the following measurement techniques:
Set clear goals: Define specific and measurable goals aligned with your overall marketing objectives. This will help you track and analyze relevant metrics.
Track key performance indicators (KPIs): Identify KPIs such as engagement rate, reach, conversions, and click-through rates. Use analytics tools provided by each platform to measure your performance.
Use tracking links: Incorporate unique tracking links in your social media posts to assess the traffic and conversions generated from each platform.
7. Adapting to New Platforms and Trends:
Social media platforms and trends are constantly evolving. Stay adaptable and embrace new opportunities with these strategies:
Stay curious: Continuously educate yourself about emerging platforms and trends. Attend industry events, webinars, and conferences to stay up to date.
Test and learn: Experiment with new platforms or features on existing platforms. Test different content formats and track the results to understand what works best for your audience.
Network and collaborate: Connect with other professionals and stay connected with your industry peers to exchange ideas, insights, and best practices.
Conclusion:
While social media management comes with its fair share of challenges, implementing the strategies mentioned above can help you navigate and sort through the difficulties. By optimizing your time, creating engaging content, building brand awareness, and adapting to changes, you can overcome the hurdles and create a successful online presence for yourself or your business. Remember, consistency, authenticity, and a customer-centric approach are key to achieving success.