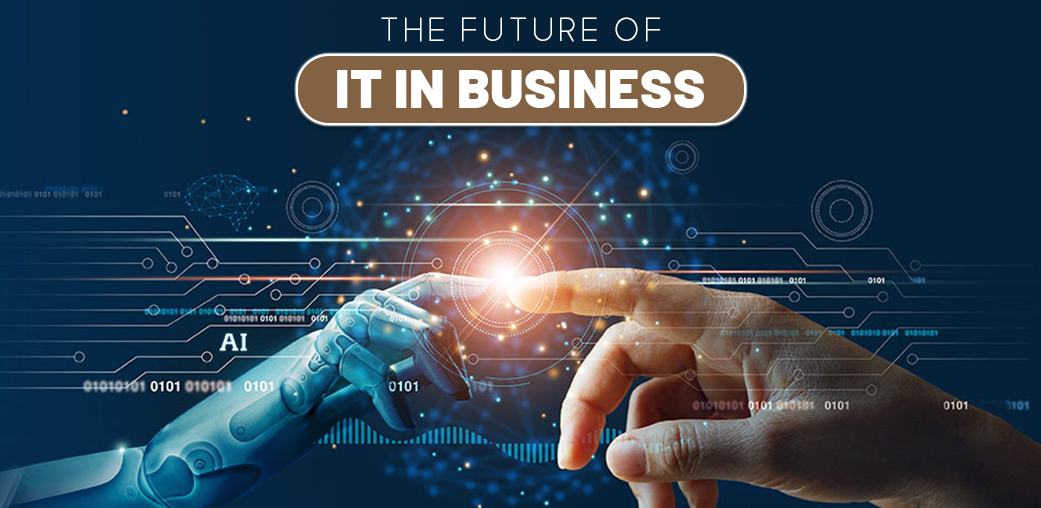 Introduction
In today's fast-changing world of business, information technology (IT) is super important. It helps organizations work better, come up with new ideas, and be competitive. As we move ahead in a more digital and connected world, it's really important to check out the things that will define the future of IT in business.
1. Artificial Intelligence (AI) and Machine Learning (ML)
AI and ML are already making big changes in many industries, and they're going to keep getting more important for businesses. Things like predictive analytics, chatbots, and automation are changing how things work. In the future, companies will use AI to make decisions based on data, make customers happier, and make their operations work even better.
2. 5G Connectivity
The arrival of 5G networks means really, really fast internet and less waiting, which is great for businesses. With this tech, we can send data instantly, making remote work better and helping stuff like smart devices (IoT) grow. Places like hospitals, shipping, and making things will especially like how 5G helps things happen quickly and smoothly.
3. Edge Computing
Edge computing is becoming more popular. It means doing computer stuff closer to where the data comes from instead of far away in big data centers. This helps things work faster and makes Internet of Things (IoT) devices work better. It's great for things like self-driving cars and smart cities. Companies will start using edge computing more to quickly process data and make better choices.
4. Cybersecurity
As businesses use more computer related things, it's really important to keep them safe from bad computer people or hackers. These people keep coming up with new ways to do harm, so companies have to be smarter and protect themselves. In the future, businesses will use fancy computer tricks like AI to spot threats, not trust anyone too much, and make sure their secret stuff is super locked up.
5. Cloud Computing
The cloud has already changed how businesses save and handle information. In the future, cloud computing will keep getting better with new edge cloud and hybrid cloud options. These will let companies be more flexible and grow their computer systems while still keeping a grip on their data.
6. Blockchain Technology
Blockchain, which is famous for its use in digital money like Bitcoin, isn't just about money. It can also be used to keep things safe and clear when we want to check or prove something. This can be really helpful in making sure things go smoothly in businesses, healthcare, and even when we vote. As blockchain gets better, companies will find new and smart ways to use it in what they do.
7. Remote Work and Collaboration Tools
The COVID-19 pandemic made more people work from home and use online tools to work together. Even when things get better, working from home will still be common. Companies will spend money on better online tools, like virtual reality, to help people work together, even if they're far apart.
8. Sustainability and Green IT
Sustainability isn't just a trendy word; it's something that both businesses and people care a lot about. Computers and technology will be really important in helping companies use less energy and be kinder to the environment. Things like eco-friendly computer rooms, using clean energy for computers, and using green tech will become normal as businesses try to be more sustainable.
9. Data Privacy and Compliance
Because of strong rules about keeping information private, like GDPR and CCPA, companies must focus on keeping data safe and following the rules. Having strong plans and technology to manage data properly is really important. This will help them avoid big fines and keep their customers' trust.
10. Human-Machine Collaboration
The future of IT isn't about replacing people. Instead, it's about making people even better at their jobs. Companies will start to work more with computers and robots, and together, they'll be super good at getting things done and thinking up new ideas.
Conclusion
The future of IT in business looks really good, and there are lots of exciting chances for improvement. To stay competitive and strong in the fast-changing digital world, it's important for businesses to adopt these new ideas and forecasts. Companies that spend in AI, 5G, edge computing, cybersecurity, and eco-friendly practices will do well and be at the front in the digital era. As we go ahead, the important things for success will be the ability to adjust, come up with new ideas, and really understand how IT can help a business grow and work better.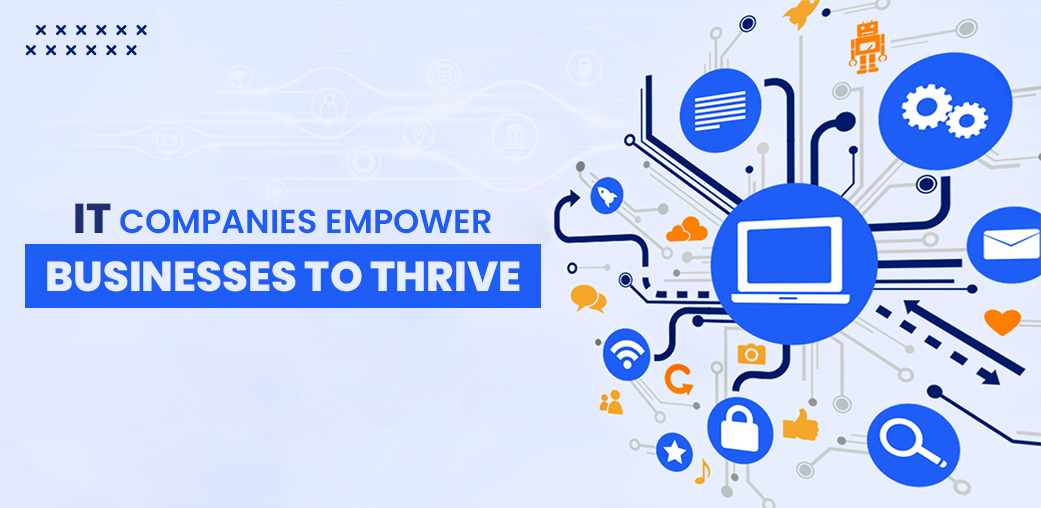 If we talk about today, the role of IT companies has become more critical than ever. They are the architects and custodians of the digital backbone that underpins the success of businesses across industries. From enabling seamless operations to fostering innovation, they have emerged as the driving force behind business growth and resilience. Here, we will explore how companies empower businesses to not just survive but thrive in the digital age.
1. Unleashing Operational Efficiency
One of the primary ways of them is optimizing their operations. Through the implementation of cutting-edge technologies like cloud computing, automation, and data analytics, they help streamline processes, reduce manual intervention, and minimize errors. This not only improves productivity but also frees up valuable human resources to focus on higher-value tasks.
Moreover, they often provide tailored software solutions like CRM software and enterprise resource planning (ERP) systems that enable companies to manage their resources efficiently, monitor performance in real-time, and make data-driven decisions. This level of operational efficiency is essential for staying competitive in today's fast-paced business environment.
2. Enhancing Customer Experiences
In an era where customer experience can make or break a business, IT companies play a pivotal role in helping them to deliver exceptional service. Customer relationship management (CRM) software, chatbots, and personalized marketing strategies are just a few examples of how they empower businesses to create memorable interactions with their customers.
These technologies enable them to understand their customers' preferences, provide instant support, and offer tailored recommendations. As a result, customer satisfaction and loyalty levels soar, driving revenue growth and long-term success.
3. Enabling Data-Driven Decision-Making
Data is often referred to as the new oil in the digital age, and IT solutions are the drillers and refiners. They develop robust data analytics solutions that allow ventures to gather, process, and analyze vast amounts of data from various sources. This data-driven approach empowers organizations to make informed decisions, identify trends, and seize opportunities swiftly.
Furthermore, experts assist in implementing robust cybersecurity measures to protect this valuable data. In an age where cyber threats are ever-present, safeguarding sensitive information is paramount for business continuity and trust-building.
4. Fostering Innovation
Innovation is at the heart of industry growth, and experts are the catalysts that drive it. They assist businesses in adopting emerging technologies such as artificial intelligence (AI), the Internet of Things (IoT), and blockchain, which have the potential to revolutionize industries.
These innovations open up new revenue streams, improve product offerings, and enhance competitiveness. They often provide research and development support, helping to stay ahead of the curve and lead in their respective markets.
5. Scaling for Growth
As businesses expand, their IT needs grow in tandem. The companies offer scalable solutions that can adapt to the changing requirements, whether they are small startups or large enterprises. Cloud computing, for instance, allows companies to scale their infrastructure on-demand, reducing the need for hefty upfront investments in hardware and software.
By providing flexible IT solutions, they ensure that businesses can easily expand their operations without experiencing technological bottlenecks.
Conclusion
The digital backbone created and maintained by IT companies is the bedrock upon which modern businesses thrive. Their contributions go far beyond just providing technical support; they are strategic partners in the journey towards business success. From optimizing operations to fostering innovation and enhancing customer experiences, they allow businesses to not only survive but also flourish in the dynamic and competitive landscape of the digital age. As technology continues to advance, the partnership between businesses and IT companies will only become more crucial in shaping the future of commerce.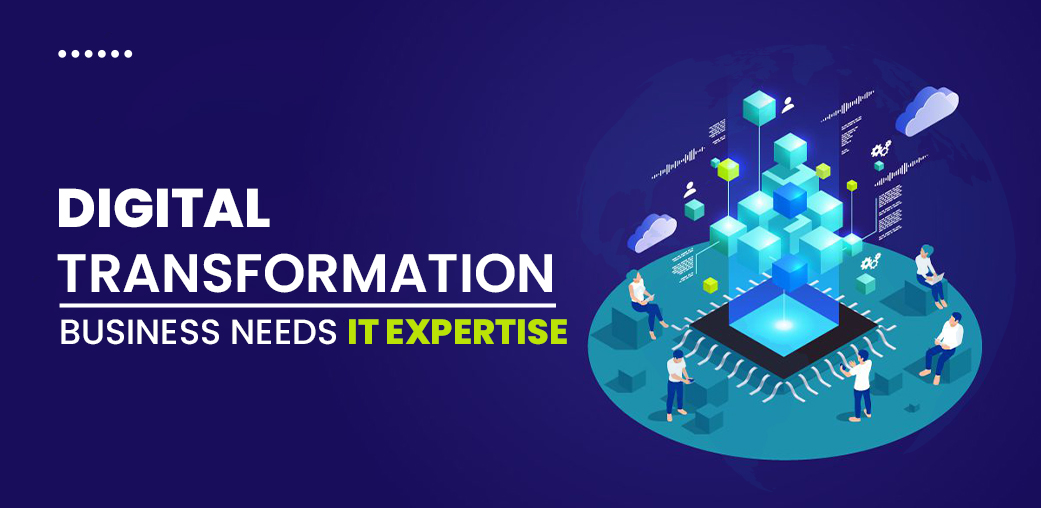 In today's fast-paced and interconnected world, the term "digital transformation" has become a buzzword across industries. Whether you run a small startup or a multinational corporation, embracing digital transformation is no longer a choice but a necessity for survival and growth. However, one crucial aspect often underestimated is the need for IT expertise within every business. Here, we'll explore why every business, regardless of its size or industry, needs expertise to successfully navigate the journey.
1. Adapting to Rapid Technological Advances:
The digital landscape is constantly evolving with new technologies emerging at an unprecedented rate. From artificial intelligence and machine learning to blockchain and IoT, staying up-to-date with these advancements can be overwhelming for non-technical professionals. The team possesses the knowledge and experience to evaluate which technologies are relevant to your business, ensuring you don't fall behind competitors.
2. Enhancing Operational Efficiency:
Efficiency is the lifeblood of any business. The experts can analyze your existing processes and systems, identifying areas where automation and optimization can lead to cost savings and increased productivity. Whether it's streamlining supply chain management or automating customer service, expertise can transform your operations.
3. Securing Your Digital Assets:
Cybersecurity threats are on the rise, and businesses of all sizes are prime targets. Without IT expertise, your company may fall victim to data breaches, ransomware attacks, or other cyber threats. The professionals can implement robust security measures, conduct regular vulnerability assessments, and educate your staff on best practices to keep your assets safe.
4. Leveraging Data for Informed Decisions:
Data is often referred to as the new oil. It's a valuable resource that, when harnessed effectively, can drive growth and innovation. The team can help your business collect, store, and analyze data, enabling you to make informed decisions. Whether it's customer insights, market trends, or operational metrics, data-driven decision-making is a cornerstone of successful digital transformation.
5. Meeting Customer Expectations:
In the technical age, customers expect seamless online experiences. From e-commerce websites to mobile apps, businesses need to deliver user-friendly digital platforms. The experts can design and develop these digital solutions, ensuring they not only meet but exceed customer expectations, thereby enhancing your brand's reputation and customer loyalty.
6. Scaling for Growth:
As your business grows, so do its technology requirements. IT expertise is essential for scaling your infrastructure and applications to accommodate increased demands. Whether you're expanding to new markets or experiencing a surge in online traffic, the professionals can ensure your technology scales seamlessly.
7. Staying Competitive:
In today's competitive landscape, businesses that fail to adapt to digital transformation are at risk of becoming obsolete. With the services your organization allows you to stay competitive by capitalizing on emerging trends and technologies.
8. Navigating Regulatory Compliance:
Various industries are subject to strict regulatory requirements, such as GDPR in Europe or HIPAA in healthcare. The specialist can ensure operations comply with these regulations, avoiding costly fines and legal troubles.
Conclusion:
Digital transformation is no longer a choice but a business imperative. To thrive in the digital age, every business, regardless of its size or industry, needs IT expertise. The specialist plays a pivotal role in adapting to technological advances, enhancing operational efficiency, securing digital assets, leveraging data, meeting customer expectations, scaling for growth, staying competitive, and navigating regulatory compliance. By investing in IT masters, you position your business for success in the ever-evolving digital landscape. Embrace the future today, and don't let your business be left behind.