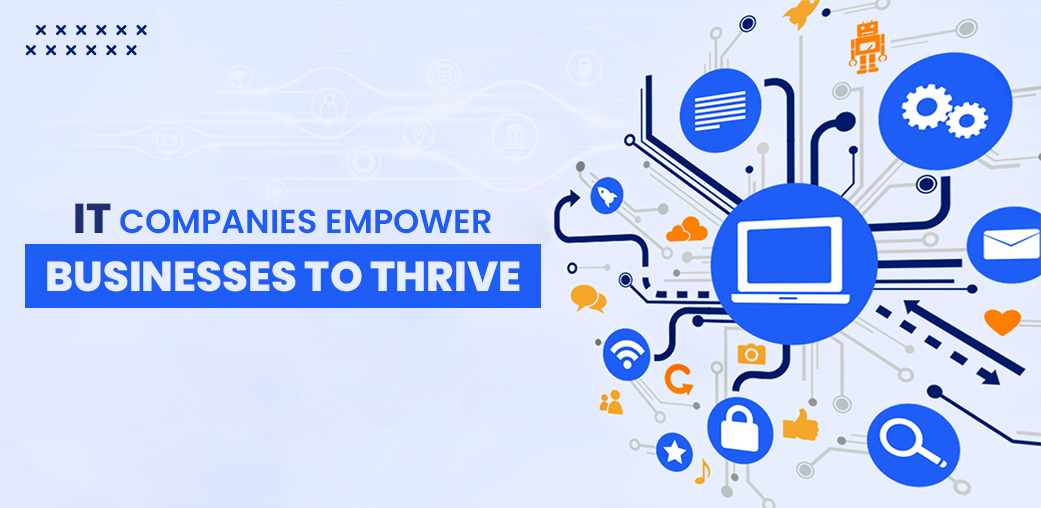 If we talk about today, the role of IT companies has become more critical than ever. They are the architects and custodians of the digital backbone that underpins the success of businesses across industries. From enabling seamless operations to fostering innovation, they have emerged as the driving force behind business growth and resilience. Here, we will explore how companies empower businesses to not just survive but thrive in the digital age.
1. Unleashing Operational Efficiency
One of the primary ways of them is optimizing their operations. Through the implementation of cutting-edge technologies like cloud computing, automation, and data analytics, they help streamline processes, reduce manual intervention, and minimize errors. This not only improves productivity but also frees up valuable human resources to focus on higher-value tasks.
Moreover, they often provide tailored software solutions like CRM software and enterprise resource planning (ERP) systems that enable companies to manage their resources efficiently, monitor performance in real-time, and make data-driven decisions. This level of operational efficiency is essential for staying competitive in today's fast-paced business environment.
2. Enhancing Customer Experiences
In an era where customer experience can make or break a business, IT companies play a pivotal role in helping them to deliver exceptional service. Customer relationship management (CRM) software, chatbots, and personalized marketing strategies are just a few examples of how they empower businesses to create memorable interactions with their customers.
These technologies enable them to understand their customers' preferences, provide instant support, and offer tailored recommendations. As a result, customer satisfaction and loyalty levels soar, driving revenue growth and long-term success.
3. Enabling Data-Driven Decision-Making
Data is often referred to as the new oil in the digital age, and IT solutions are the drillers and refiners. They develop robust data analytics solutions that allow ventures to gather, process, and analyze vast amounts of data from various sources. This data-driven approach empowers organizations to make informed decisions, identify trends, and seize opportunities swiftly.
Furthermore, experts assist in implementing robust cybersecurity measures to protect this valuable data. In an age where cyber threats are ever-present, safeguarding sensitive information is paramount for business continuity and trust-building.
4. Fostering Innovation
Innovation is at the heart of industry growth, and experts are the catalysts that drive it. They assist businesses in adopting emerging technologies such as artificial intelligence (AI), the Internet of Things (IoT), and blockchain, which have the potential to revolutionize industries.
These innovations open up new revenue streams, improve product offerings, and enhance competitiveness. They often provide research and development support, helping to stay ahead of the curve and lead in their respective markets.
5. Scaling for Growth
As businesses expand, their IT needs grow in tandem. The companies offer scalable solutions that can adapt to the changing requirements, whether they are small startups or large enterprises. Cloud computing, for instance, allows companies to scale their infrastructure on-demand, reducing the need for hefty upfront investments in hardware and software.
By providing flexible IT solutions, they ensure that businesses can easily expand their operations without experiencing technological bottlenecks.
Conclusion
The digital backbone created and maintained by IT companies is the bedrock upon which modern businesses thrive. Their contributions go far beyond just providing technical support; they are strategic partners in the journey towards business success. From optimizing operations to fostering innovation and enhancing customer experiences, they allow businesses to not only survive but also flourish in the dynamic and competitive landscape of the digital age. As technology continues to advance, the partnership between businesses and IT companies will only become more crucial in shaping the future of commerce.