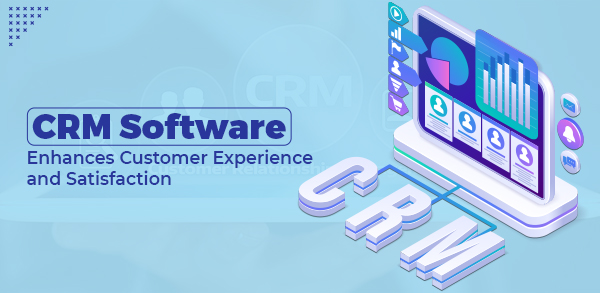 In today's hyper-competitive business landscape, providing exceptional customer experiences has become a top priority for companies across various industries. Satisfied customers are not only more likely to become repeat buyers but also serve as powerful brand advocates, helping to attract new clientele through positive word-of-mouth. To achieve this, businesses are turning to Customer Relationship Management (CRM) software as a key tool in their customer-centric strategies. Here, we will explore how this software enhances customer experience and satisfaction.
Understanding CRM Software:
It is a powerful technology that enables businesses to manage and analyze their interactions with both current and potential customers. It consolidates customer data from various touchpoints, including sales, marketing, customer support, and social media, into a single, comprehensive platform. This unified view of customer information empowers companies to better understand their customers' needs, preferences, and pain points, resulting in improved customer service and personalized interactions.
360-Degree Customer View
One of the most significant benefits of CRM software is its ability to create a 360-degree view of each customer. Traditional methods of customer data storage, such as spreadsheets or disjointed databases, can lead to fragmented and outdated information. CRM systems centralized customer data, making it easily accessible and up to date for all authorized employees. This comprehensive view allows businesses to understand their customers better, anticipate their needs, and deliver personalized experiences, ultimately leading to increased customer satisfaction.
Personalization and Targeted Marketing
In today's era of mass customization, customers expect personalized interactions with brands. CRM empowers businesses to segment their customer base based on various attributes, such as demographics, purchase history, and behavior. This segmentation enables companies to tailor marketing campaigns and communications to specific customer groups, delivering relevant content and offers. Personalization enhances the customer experience by making customers feel valued and understood, thus fostering stronger connections and loyalty.
Efficient Customer Support
Effective customer support is a crucial aspect of customer satisfaction. It streamlines customer support processes by providing a centralized ticketing system and case management capabilities. When a customer reaches out for assistance, support representatives can quickly access the customer's history, past interactions, and preferences. This quick access to information allows support teams to resolve issues more efficiently and effectively, leading to happier customers who feel supported and cared for.
Streamlined Sales Process:
CRM software also plays a pivotal role in enhancing the sales process. Sales teams can use tools to track leads, manage prospects, and automate follow-ups, ensuring that no potential opportunity falls through the cracks. The system's sales analytics and reporting capabilities provide valuable insights into the sales pipeline, enabling businesses to optimize their sales strategies. A smoother sales process translates to shorter lead-to-customer conversion times, contributing to overall customer satisfaction.
Proactive Customer Engagement
The software enables businesses to engage with customers proactively. Through automated reminders and notifications, companies can reach out to customers on important dates, such as birthdays or anniversaries. Moreover, CRM systems can be integrated with marketing automation tools, facilitating timely and relevant communications with customers. By staying in touch and showing genuine interest, companies can foster long-term relationships and generate customer loyalty.
Feedback and Surveys
It provides avenues for gathering customer feedback and conducting surveys. By leveraging customer opinions, businesses can identify areas for improvement and understand what drives customer satisfaction. Acting upon feedback signals to customers that their opinions matter, fostering a sense of partnership and trust between the company and its clientele.
In conclusion, Customer Relationship Management (CRM) software is a valuable asset for businesses seeking to enhance customer experience and satisfaction. By consolidating customer data, enabling personalization, improving customer support, streamlining sales processes, facilitating proactive engagement, and leveraging customer feedback, empower companies to deliver exceptional experiences at every touchpoint. When customers feel valued, understood, and supported, they are more likely to remain loyal and spread positive word-of-mouth, contributing to the company's long-term success. Embracing CRM technology is no longer an option but a necessity for businesses striving to thrive in the customer-centric landscape of today and beyond.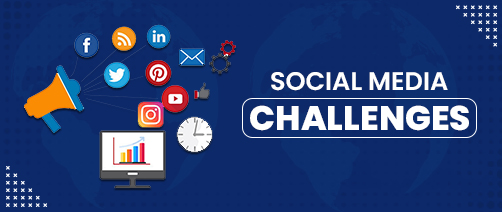 Introduction:
Social media has become an integral part of our lives, both personally and professionally. It offers numerous opportunities for individuals and businesses to connect, engage, and promote their ideas, products, and services. However, it's not uncommon to feel overwhelmed by the challenges that come with managing social media platforms. Here we will discuss common struggles faced by users and provide effective ways to overcome them.
Limited Resources and Time:
One of the biggest challenges of management is finding the time and resources to consistently create and publish quality content. To tackle this issue, consider the following strategies:
Develop a content calendar: Plan and schedule your content in advance. This helps maintain consistency and ensures you have a steady stream of content ready to be published.
Repurpose content: Instead of always creating new content, repurpose existing content in different formats or for different platforms. For example, make a series of social media posts or transform a video into a podcast episode.
Automate and schedule: Utilize tools to schedule posts in advance, freeing up your time for other tasks.
2. Content Creation:
Creating engaging and valuable content is key to capturing your audience's attention. Overcome content creation struggles with these tips:
Know your audience: Understand your target audience's preferences, interests, and pain points. Tailor your content to meet their needs and desires.
Mix up content formats: Experiment with various content types such as videos, images, infographics, podcasts, and written posts. This keeps your feed fresh and appeals to different audience preferences.
User-generated content: Encourage your followers to create and share content related to your brand. This not only fosters engagement but also lightens the load of content creation.
3. Brand Knowledge and Differentiation:
In a crowded social media landscape, it can be challenging to stand out and create brand awareness. Here's how you can differentiate your brand:
Consistent branding: Develop a cohesive visual identity, including logos, color schemes, and fonts, to create a recognizable brand presence across online platforms.
Authenticity: Be true to your brand's values and mission. Share behind-the-scenes content, showcase your team, and tell compelling stories that resonate with your audience.
Influencer collaborations: Partnering with influencers relevant to your niche can help extend your reach and introduce your brand to new audiences.
4. Audience Engagement:
Engaging with your audience is crucial for building relationships and fostering brand loyalty. Try the following strategies to increase audience engagement:
Respond promptly: Reply to comments, direct messages, and mentions in a timely manner. Show your audience that their opinions and questions are valued.
Encourage conversations: Ask thought-provoking questions, run polls or surveys, and invite your audience to share their experiences or opinions.
Contests and giveaways: Organize contests or giveaways to incentivize engagement. Offer rewards that align with your brand or products to attract relevant participants.
5. Algorithm Changes:
Social media algorithms constantly evolve, making it challenging to maintain organic reach. Stay ahead of algorithm changes with these tips:
Stay informed: Keep up with industry news, social media blogs, and official announcements to understand algorithm updates and adapt your strategy accordingly.
Diversify platforms: Don't rely solely on one platform. Build a presence on multiple platforms to mitigate the impact of algorithm changes on your reach.
6. Measurement and ROI:
Measuring the effectiveness of your efforts is crucial to ensure a positive return on investment. Consider the following measurement techniques:
Set clear goals: Define specific and measurable goals aligned with your overall marketing objectives. This will help you track and analyze relevant metrics.
Track key performance indicators (KPIs): Identify KPIs such as engagement rate, reach, conversions, and click-through rates. Use analytics tools provided by each platform to measure your performance.
Use tracking links: Incorporate unique tracking links in your social media posts to assess the traffic and conversions generated from each platform.
7. Adapting to New Platforms and Trends:
Social media platforms and trends are constantly evolving. Stay adaptable and embrace new opportunities with these strategies:
Stay curious: Continuously educate yourself about emerging platforms and trends. Attend industry events, webinars, and conferences to stay up to date.
Test and learn: Experiment with new platforms or features on existing platforms. Test different content formats and track the results to understand what works best for your audience.
Network and collaborate: Connect with other professionals and stay connected with your industry peers to exchange ideas, insights, and best practices.
Conclusion:
While social media management comes with its fair share of challenges, implementing the strategies mentioned above can help you navigate and sort through the difficulties. By optimizing your time, creating engaging content, building brand awareness, and adapting to changes, you can overcome the hurdles and create a successful online presence for yourself or your business. Remember, consistency, authenticity, and a customer-centric approach are key to achieving success.