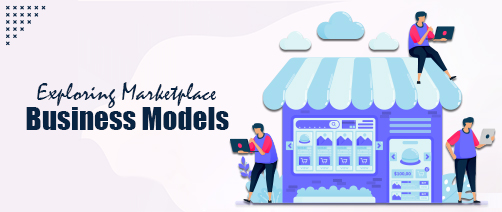 In the digital age, the marketplace business model has become a cornerstone of modern commerce. These platforms connect buyers and sellers, allowing transactions to take place with ease. What's even more intriguing is how these marketplace platforms have evolved to generate substantial revenue for themselves. Here, we'll delve into some of the most effective marketplace business models that facilitate revenue generation.
1. Commission-Based Model:
One of the most prevalent marketplace business models is the commission-based approach. There are many platforms to employ this strategy. In this model, the marketplace charges a percentage of each transaction made through it. This incentivizes the platform to continually improve the quality of service to attract more users and transactions.
2. Subscription Model:
In a subscription-based marketplace criteria, users pay a recurring fee to access premium features, exclusive content, or a higher level of service. LinkedIn, for example, offers premium subscriptions that grant users advanced networking and job-seeking capabilities. This model fosters a consistent revenue stream, as users are motivated to continue their subscription to maintain access to valuable features.
3. Listing Fees:
Marketplaces use listing fees as a revenue-generation strategy. Sellers pay a fee to list their products on the platform, irrespective of whether the item is sold or not. This approach provides a constant source of revenue for the marketplace, regardless of the actual sales outcome.
4. Freemium Model:
The freemium model offers basic features for free while charging for advanced functionalities. Marketplaces using this technique which often attract a large user base with the free offering and then entice users to upgrade by offering enhanced features or removing certain restrictions through a paid subscription. Dropbox follows this strategy, allowing users to store a certain amount of data for free and then charging for additional storage.
5. Lead Generation Model:
It focuses on services, such as Thumbtack, which often adopt the lead generation model. Service providers pay a fee to receive leads or requests for their services. This approach provides value to providers by connecting them directly with potential clients, making it a win-win scenario and generating revenue for the platform.
6. Advertising and Promotions:
Generating revenue through advertising is a well-established model in the digital realm. Marketplaces can sell advertising space to relevant sellers who want to promote their products or services to a targeted audience. Amazon, for instance, allows sellers to pay for sponsored product listings that appear prominently in search results.
7. Transaction Fees:
In addition to the commission-based model, some places charge a flat fee per transaction. This structure is often employed in combination with other revenue strategies. It works well for lower-cost items or services, as sellers find it more reasonable than paying a percentage-based commission.
8. Data Monetization:
Data is a valuable asset, and some market sectors capitalize on this by offering data-driven insights to sellers and buyers for a fee. These insights can help sellers optimize their product offerings and pricing strategies, and buyers can gain access to market trends and preferences.
Conclusion
In the marketplace business landscape is diverse and ever-evolving. Successful platforms adapt and combine these revenue-generation strategies to cater to their specific market, user base, and industry. By fostering a healthy ecosystem where both buyers and sellers' benefit, these places can thrive while generating substantial revenue. As technology continues to advance, it's exciting to anticipate how these models will further transform and innovate in the years to come.